Fall 2013 NORDIC TOUR CALENDAR
---
Fall 2013
NORDIC TOUR CALENDAR In Fall 2013, Nordic Outbreak will travel across the Nordic region and visit collaborating arts, culture and architecture institutions. Selections from the program will be presented in each Nordic country accompanied by public programs. HELSINKI
Museum for Contemporary Art Kiasma and Media Facades Festival Helsinki
August 21 – September 1, 2013 COPENHAGEN
Danish Architecture Center
October 10-17, 2013 REYKJAVIK
Reykjavik Art Museum
October 25-27, 2013 STAVANGER
Screen City Festival
October 26-27, 2013 NUUK
Katuaq The Cultural Center of Greenland
December 5-22, 2013 UMEÅ
Inauguration Festival for Umeå as European Capital of Culture 2014
January 31-February 2, 2014
---
October 10-20, 2013 Nordic Outbreak in Copenhagen
---
A selection from the Nordic Outbreak exhibition will be presented at the Danish Architecture Center in Copenhagen, between October 10 and October 20, 2013. The full program will include: Talk&Debate, October 10: Digitally Disturbed, 5-7pm
Followed by exhibition opening, 7-9pm
Danish Architecture Center, Strandgade 27B, 1401 København K, Denmark New commission of video projection mapping with sound, by Egill Sæbjörnsson
October 10-11, 8:30pm-12pm both evenings, installation on the DAC facade facing the courtyard
Danish Architecture Center, Strandgade 27B, 1401 København K, Denmark Exhibition at DAC, October 10-20, 2013
Installation of seven video works inside DAC
Danish Architecture Center, Strandgade 27B, 1401 København K, Denmark, during opening hours Read more here
---
August 21-September 1 Nordic Outbreak in Helsinki
---
A selection from the Nordic Outbreak exhibition will be presented at Museum of Contemporary Art Kiasma and Media Facades Festival Helsinki. The full program will include: Seminar, August 21: Moving Image – Performing in public space
Kiasma, Mannerheiminaukio 2, Helsinki, 5 pm to 7 pm Screen Installation, Media Facades Festival Helsinki, August 22-24
Helsinginkatu 1, Sörnäinen metro station, Helsinki, daily 11 pm to 1 om (next day) Screening Program, August 21-September 1
Mediateekki, Kiasma, Mannerheiminaukio 2, Helsinki, during museum opening hours
---
August 10 - September 13 Nordic Outbreak visits Sao Paulo
---
August 10 (5:30pm and 7 pm), and August 13 to September 13 (12 and 6pm daily) Nordic Outbreak visits Espaço Cultural Tendal da Lapa, São Paulo, Brazil, presented in collaboration with the University of São Paulo, Colabor Research Center for Digital Media, PGEHA, Cine Galapão, Pulso Filmes, Programa Vocacional and Secretaria Muinipal de Cultura de São Paulo. The exhibition presents Björk and Andrew Thomas Huang, Mutual Core, in MIDNIGHT MOMENT in collaboration between Streaming Museum and Times Square Arts. This is a special version of internationally acclaimed singer-songwriter Björk's Mutual Core, which originally appeared in Times Square during the March 2013 Midnight Moment to launch the Nordic Outbreak exhibition. The exhibition also presents the following artists form the Nordic Outbreak program: J Tobias Anderson, The Wind (2009)
Ken Are Bongo, The wind whispers there is someone behind the tundra (2006)
Jette Ellgaard, West Coast (2009)
Jessica Faiss, Rewind (2011)
Styrmir Örn Gudjonsson, First Level (2012)
Mogens Jacobsen, Landscapes (2006-2007)
Hannu Karjalainen, Towards an Architect (2010)
Dan Lestander, Dreams and Wishes (2010)
Magnus Sigurdarson, 1001 Dreams of Occupation (2012)
---
August 1, 2013 NO at the Maboneng Precinct, Johannesburg, South Africa
---
A selection from the Nordic Outbreak exhibition will be exhibited in The Maboneng Precinct, Johannesburg, South Africa in partnership with The Trinity Session founders Marcus Neustetter and Stephen Hobbs, and The Maboneng Precinct. Artists:
J Tobias Anderson, The Wind (2009)
Jeannette Ehlers, Black Bullets (2012)
Jessica Faiss, Rewind (2011)
Vibeke Jensen, Sleeper Cell (2012)
Hannu Karjalainen, Towards an Architect (2010)
Dodda Maggy, There, there (2013)
Miia Rinne, Sea (2012) The installation also presents MIDNIGHT MOMENT featuring Björk in Mutual Core (2012), in collaboration with Times Square Arts. August 1, 2013, 7-10pm, at the corner of Fox Street and Kruger Street
---
June 8 – 28, 2013 Nordic Outbreak at ISEA2013 Sydney
---
Nordic Outbreak was invited to present a special program during and post ISEA 2013 Sydney, June 8 – 28 by Urbanscreens TV, The Concourse, 409 Victoria Avenue, Chatswood Sydney NSW 2067. ISEA is an international symposium of electronic art and ideas that takes place in a different city each year. ISEA 2013 took place in Sydney, Australia. Presented by the Australian Network for Art and Technology (ANAT) and held alongside Vivid Sydney – a festival of light, music and ideas – ISEA2013 showcased the best media artworks from around the world and provide a platform for the lively exchange of future-focused ideas. The 19th International Symposium on Electronic Art comprised engaging presentations and thought-provoking speakers and discussions, informed dialogues, dynamic debates, enlightening keynotes and experimental incursions into the extensive and diverse practice of electronic media arts. isea2013.org
---
April 6, 2013 Sky Room Dinner Party at the New Museum
---
The launch week of Nordic Outbreak in New York City culminated with a Dinner Party in the Sky Room at The New Museum. An indoor installation and an outdoor projection on Bowery across the Museum framed the social event in a living exhibition, showing works from the Nordic Outbreak program never before exhibited in the US.
---
April 6, 2013 NO Symposium with keynote speaker Erkki Huhtamo at Scandinavia House
---
Professor of Media History and Theory at University of California (UCLA) Erkki Huhtamo was the keynote speaker at the all-day Nordic Outbreak Symposium at Scandinavia House. The symposium contextualized the themes at play in the Nordic Outbreak exhibition, and it sparked a conversation and discussion to be continued in all of the Nordic countries during the exhibition tour in Fall 2013. The speakers at the symposium included twelve artists, curators and theorists, who discussed various influences of an outbreak in Nordic moving image. The symposium was followed by a buffet dinner party and wine bar at New Museum's Sky Room, with an indoor screening and an outdoor wall projection with selections from the Nordic Outbreak program. The event was accompanied by a video concert screening by the Danish indie rock band Efterklang.
---
April 5, 2013 Exhibition at Dag Hammarskjold Plaza
---
47th Street between 1st and 2nd Avenue 7–10pm After a welcome by Shamina de Gonzaga, Executive Director of World Council of Peoples for the United Nations
, Jesper Just, Llano (2012)
Eija-Liisa Ahtila, Fishermen (Études no 1) (2010)
Sigurdur Gudjónsson, Veil (2012)
Dan Lestander, Dreams and Wishes (2010)
Jeannette Ehlers, Black Bullets (2012)
Ken Are Bongo, The Wind Whispers There Is Someone Behind The Tundra (2006)
Dodda Maggy, There, There (2013) The selection of works reflects on issues of sustainability and global futures in depictions of scenes and imaginations of nature as meditative, thought provoking and experimental spaces. Admission: Free by RSVP
---
April 4, 2013 Pre-symposium lecture at NYU Tisch School of the Arts
---
Jonatan Habib Engqvist: Nordic Outbreak – A Nordic History of Moving Images. And Things. The widespread international exchange over the last few decades naturally means that the question of Nordic identity, if there ever was one, is highly problematic. Looking at a specific regional history, one can however find overlooked albeit essential people and phenomena within the development of a certain media. By presenting some stories, anecdotes and myths from the Nordic region stemming from early modernity and the 1960´s, this talk will explore various connections between these stories, the weather, the current scene in the region, and to New York. The presentation will on one hand contemplate a history of moving things and images related to visual art in the Nordic context, and on the other hand propose a take on the "Nordic Thing" through a speculative account of how this projection might relate to moving images in and from the Nordic countries.
---
April 4, 2013 Exhibition in Manhattan Bridge Archway
---
Artists: Mogens Jacobsen, Landskaber (2006/2007)
Styrmir Örn Gudmundsson, First Level (2012)
Jessica Faiss, Rewind (2011)
Miia Rinne, Sea (2012) The selection of artwork from the Nordic Outbreak program reflects on movement and imaginary pathways. Through animated, manipulated and computational narratives, the works explore various modes of transition, through spatial and imaginary dimensions. The exhibibition took place during Dumbo Gallery Night.
---
April 4 Exhibition at 2nd Street and Avenue A
---
This selection of works reflect on domestic narratives and convey emotional responses to contemporary domestic life. Iselin Linstad Hauge, The Foreignness of Her (2011)
Kaia Hugin, Motholic Mobble, part 1 (2008)
Eeva Mari-Haikala, Vie Coye (Fin) (2010)
Birgitte Sigmundstad, Morning (2011)
Eva Olsson, On Non-Freehold Property (2011) 9-11pm
Solo exhibition of Vibeke Jensen, SLEEPER_CELL (2003/2013), which addresses the post 9/11 terminology and condition. Shot from the artist's loft in Williamsburg, it shows events and non-events outside her window. The work investigates the power of positioning, implicit and explicit vision, and the choice of protagonists to participate or disengage from the watching eye
Eva Olsson, On Non-Freehold Property (2011)
---
April 2, 3, 4, 5, 2013 Exhibition on Big Screen Plaza
---
851 Avenue of the Americas, between 29th and 30th Street (behind the Eventi Hotel) On the Big Screen, audience could experience some of the groundbreaking animation works from the Nordic Outbreak collection on the Big Screen. Artists: QNQ/AUJIK, Cathexis (2012)
Una Lorenzen, In The Crack Of The Land (2009)
Miia Rinne, Sea (2012)
Søren Thilo Funder, Everywhere (2007)
Superflex, Rebranding Denmark (2006)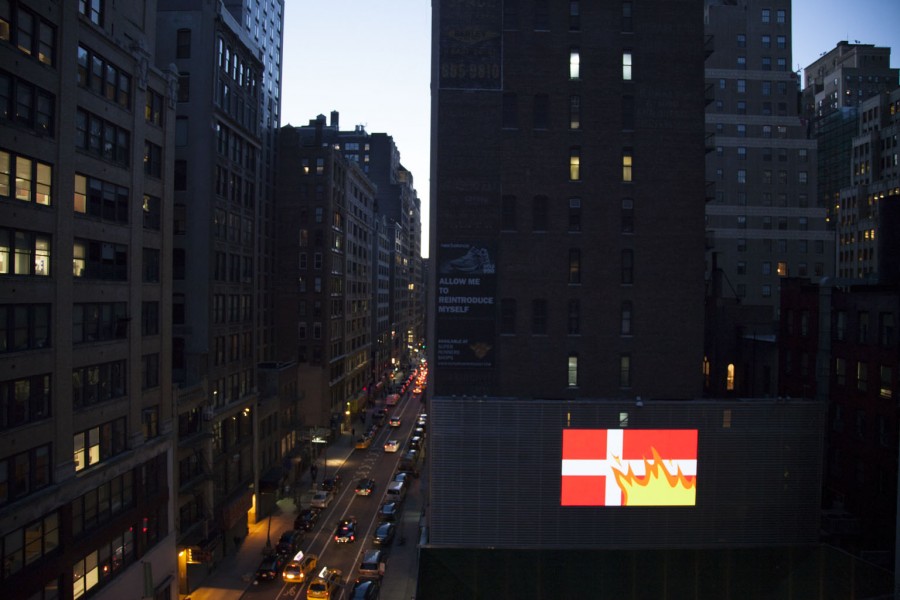 ---
March 31, 2013 Nordic Outbreak Launch Party
---
Renaissance New York Times Square Hotel, R Lounge
Two Times Square, 714 Seventh Avenue at West 48th Street 10-12pm Nordic Outbreak Launch Toast in the R Lounge, overlooking 15 of the largest screens in Times Square simultaneously exhibiting Björk's video for Mutual Core, directed by Andrew Thomas Huang.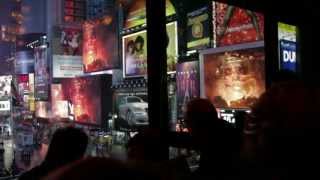 ---
March 1, 2013 Bjork opens Nordic Outbreak with Mutual Core in Times Square
---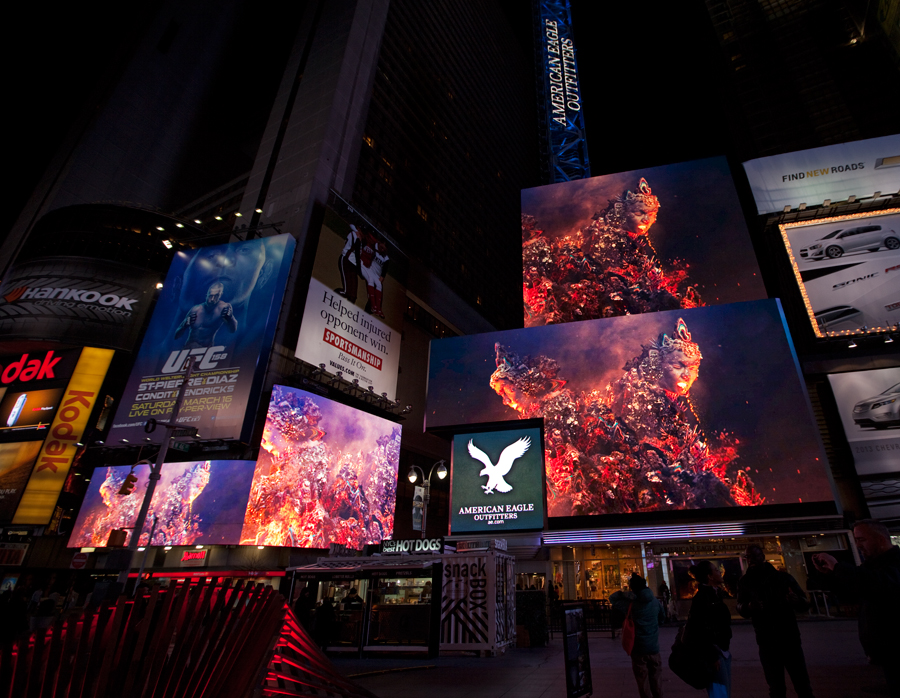 Björk in her music video for "Mutual Core." Directed by Andrew Thomas Huang, Cinematography by August Jakobsson. Photograph by Ka-Man Tse. The Nordic Outbreak preludes with A video by internationally acclaimed singer-songwriter Björk, which will be shown every night in March as part of a synchronized program on over fifteen of the largest digital signs in Times Square. Björk's work, Mutual Core, will premiere just before midnight on March 1st and play throughout the month as part of the Midnight Moment, a presentation of the Times Square Advertising Coalition (TSAC) and Times Square Arts. Directed by Los Angeles-based filmmaker Andrew Thomas Huang, this video has been edited specifically for the digital signs and is part of Björk's Biophilia Series, combining music with technological innovation and exploring themes of science and nature. In the video, the forces of nature explode across a futuristic landscape where volcanoes erupt from a dessert floor, a snowstorm transforms the environment, and anthropomorphic rocks come to life orbiting around a goddess of nature. The original version of the video was created by MOCAtv for the Los Angeles Museum of Contemporary Art. This Midnight Moment presentation is part of the New York City launch of Streaming Museum's Nordic Outbreak, leading up the official launch week of public space exhibitions, symposium and social events March 31 – April 6.
---
---